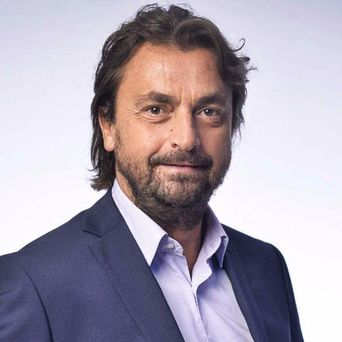 Henri Leconte is participating in Movember 2017
"I know my balls….do you know your yours?"
Henri will be travelling across the UK baking balls with his tennis-playing friends to raise awareness of testicular cancer..
Click here for more details and to donate
Henri Leconte made it to the Celebrity MasterChef semi-final.
Fire up the cookers, BBC One's Celebrity MasterChef 2017 invites stars from the world of sport, show business, music and drama to chop, slice and sizzle their way to the trophy.
CELEBRITY MASTERCHEF 2017 named its most exciting line-up to date as a host of famous faces are preparing to feel the heat in the kitchen. Henri Leconte was one of them
Seasoned judges, John Torode and Gregg Wallace have their taste buds challenged, whilst they whittle down the twenty celebrity contestants; comparing their culinary skills in their hunt to single out one champion.
From identifying mystery ingredients and cooking in top class restaurant kitchens to catering for huge numbers and creating world class pastry, Celebrity MasterChef yet again puts the contestants through a plethora of culinary challenges. They'll cook for critics and past winners in their quest to reach the ultimate challenge of cooking with Michelin-starred chef, Jason Atherton, and of course serving up their ultimate three-course menu for John Torode and Gregg Wallace.
The former tennis ace progressed to Semi Finals after impressing Adrian Edmondson, Emma Kennedy and Phil Vickery which saw Leconte serve up a perfect lamb dish. Meanwhile Henri admitted: 'When you get older some things change…no, never change. You're fighting like hell, which is good. I love that.
Having entertained the audience and become a well-liked character according to the social media channels. Unfortunately, having got there, his apple tart let him down, and he was out.
I had an "Unbelievable time" having never cooked before except at home, it was a great experience and now I know what I can and cant do…and that make desert !!